Previous events
2023
Dulverton Live! – Saturday 14th October
We took part in the Dulverton Live! event in Dulverton Town Hall to encourage new members to join the choir. We handed out flyers about the choir and our Christmas concert.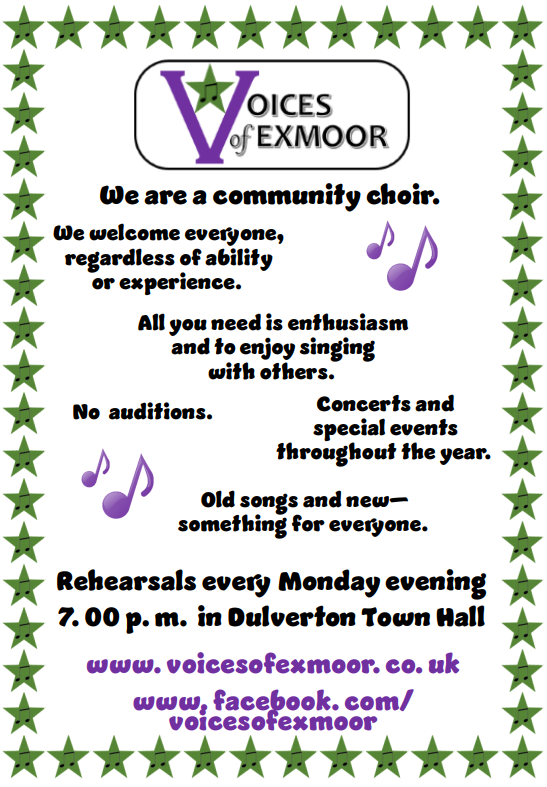 Woolhanger: The Reprise – Saturday 16th September
We were finally able to perform our highly successful Woolhanger concert to our loyal 'home crowd' in Dulverton.
Workshop – Saturday 24th June
On Saturday 24th June, we held our first choir workshop at Dulverton Town Hall.
In the morning, we worked in groups to learn more about the technology we use to help choir members to learn new music.
After a fantastic shared lunch, we were honoured to work with a local singing teacher, who showed us some excellent techniques to help us to improve our performance.
Singalong – Saturday 29th April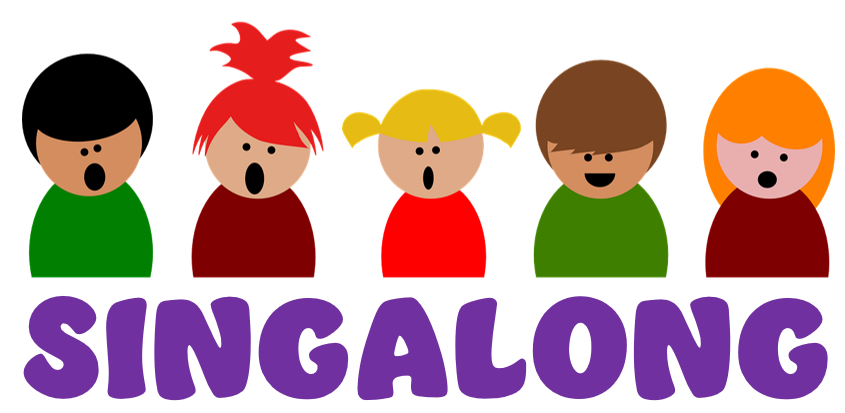 Our Singalong on Saturday 29th April was a great success. We had a steady stream of visitors throughout the morning and we have gained some new members as a result. We were also able to celebrate the 30th wedding anniversary of two of our members.
2022
Our Musical Journey – Saturday 17th September
The big day had finally arrived! Not just our first concert for two and a half years, but the world premiere of our original song written as part of Making Music's 'Adopt A Music Creator 2022'.
On Friday, 16th September, choir members started to arrive at The Music Room on Woolhanger Estate for our final rehearsal. What a stunning venue! The room was filled with chairs; our marvellous front of house team had begun to organise everything necessary to greet the audience; the sound engineer from Making Music was in the process of setting up the microphones needed to record our song. After months of preparation, the realisation of the importance of the task ahead of us had finally registered.
Friday's rehearsal didn't go terribly well, but, with the old theatrical tradition that 'a terrible dress rehearsal means a great first night' ringing in our ears, we arrived on Saturday, 17th September with even greater enthusiasm and determination. We warmed up using some of our usual exercises and built confidence by singing through parts of some of the songs in the programme. Then we retired to the 'Red Room' to allow the audience to gather, buy plenty of raffle tickets and find their seats. Amanda gave us a few last-minute words of motivation and we were ready to go.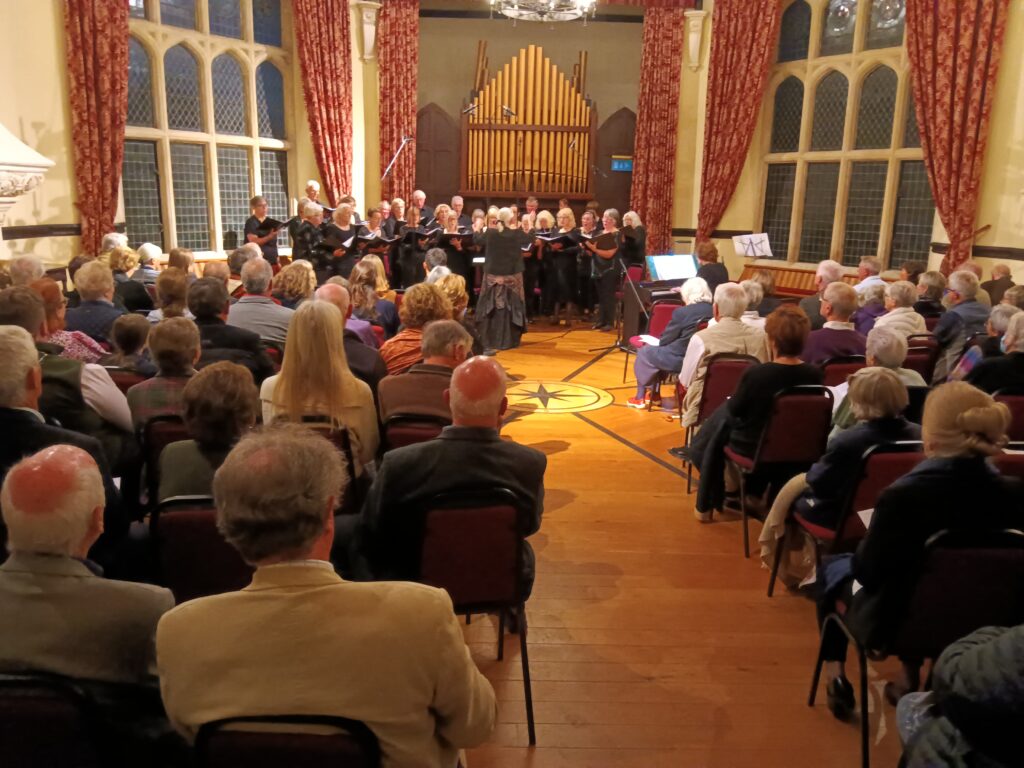 As we walked into The Music Room, the applause of the audience was extremely welcoming and strangely comforting – it felt good to be performing together once again. The Barry Manilow classic 'One Voice' was the first item in our programme and we could feel the emotion building as we sang our way through it; this was going so much better than the rehearsal already. Every song we sang was followed by enthusiastic applause and, before we knew it, the interval had arrived and we returned to the Red Room feeling very happy.
However, we needed to keep the momentum going for the second half which included a real mixture of songs, both gentle and poignant as well as lively and fun. And, of course, our world premiere. Amanda gave a brief introduction to 'Adopt A Music Creator' and then invited Lynne Plowman, our mentor, and Hannah Fredsgaard-Jones, our music creator, to say a few words about the whole process. It was a real privilege to finally be able to perform our song, 'Over the Moor', to an audience of people who are so familiar with the beauty and uniqueness of Exmoor.
The concert came full circle with a final rendition of 'One Voice', in which we were joined by Hannah and Lynne, and the audience joined us in a rousing encore of 'When the Saints go marching in'.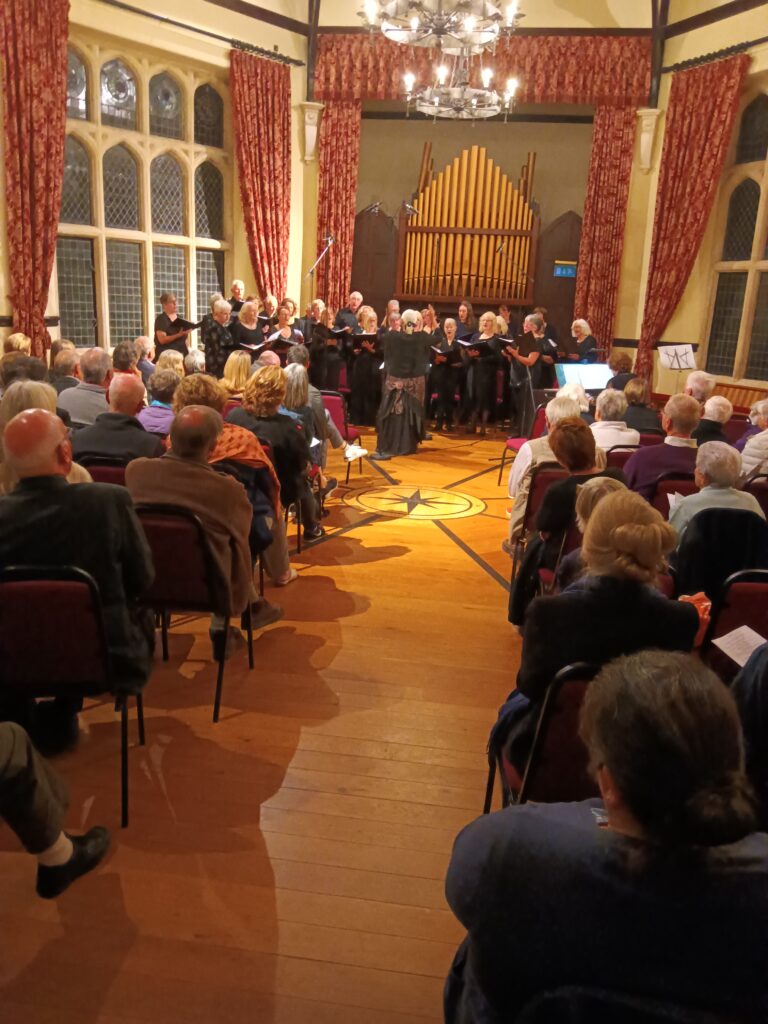 It felt absolutely fantastic to hear the clapping and cheering of the audience and to know that we had all pulled together to create such an enjoyable occasion for everyone. We would like to sincerely thank everyone who came to support us for 'Our Musical Journey' and all those people who helped to make the whole evening such a success.
The Queen's Platinum Jubilee Celebrations
On 3rd June 2022 we sang at Exmoor Gardens, Dulverton as part of the Queen's Platinum Jubilee celebrations – our first public performance for two and a half years.
We were given an extremely warm reception by the audience and were quite (pleasantly) surprised to hear shouts of "More! More!" at the end of our short programme.
2019
2018
PRIOR TO 2018